Bibles for Russian Soldiers
When General Slava Borisov, field commander of the Soviet troops in Afghanistan, stepped into a helicopter one day in 1985, he was an atheist. Before the helicopter hit the ground, shot down by rebels, Borisov made a major, lifesaving change.
"When my helicopter was falling down, I cried out to God. I did it subconsciously, I did it instinctively. I cried out to him, God save me," Borisov said through an interpreter. "I survived, even though I was wounded very severely."
After the accident, which took him six months, in a coma, in the hospital to recover, Borisov returned to the Russian army as a Christian soldier. As a result of his conversion, Revival Fires International was granted access to go on Russian military bases to conduct Christian services and distribute Bibles to all of the Russian soldiers!
Personally conducting "Russian Red Army Revivals," Tim Todd has witnessed thousands of Russian military soldiers and officers giving their lives to Jesus Christ!
Help Revival Fires International Provide Bibles For Russian Red Army Soldiers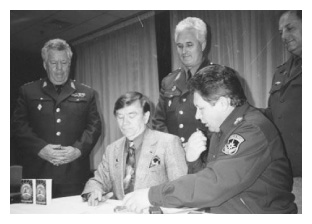 This agreement enables Revival Fires International to distribute Bibles to Russia's Red Army!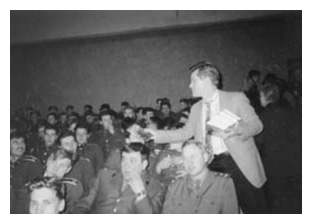 Over TWO MILLION BIBLES have been given to soldiers in Russia's military! This is an on-going missions project!
Through Revival Fires International, more than two million Bibles have already been distributed to Russian soldiers. Prayerfully consider helping us provide the necessary funds to place Bibles into the hands of the 1.5 million Russian soldiers that still don't have one.
The Bibles cost only $4.00 each to print. Your sacrificial gift of $1000, $500, $200, $100 or even $40 (for 10 Bibles), $20 (for 5 Bibles) will enable us to raise the needed funds to provide Bibles for soldiers in the Russian Red Army. Thank you in Jesus name for caring and sharing!
…and we will deliver them to Russian soldiers!